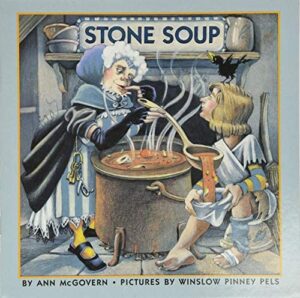 Soup from a stone? Fancy that.
When temperatures dipped into the twenties earlier this week, I was forced to face the cold, hard truth that summer is behind us. I dug my coat out of the closet. I put away my flip-flops and found my fuzzy slipper socks. I decided that turning on the furnace didn't make me a sissy. And suddenly, I was in the mood for soup.
Making soup always brings to mind one of my favorite folk tales, thought to have originated in France in the 1500s. It's been retold in numerous ways over the centuries, but the version of "Stone Soup" I read to my children and grandchildren was written by Ann McGovern and published by Scholastic in 1968.
It tells the story of a young man walking through the countryside. He's tired. He's hungry. When he spots a fine house by the side of the road, he's sure there will be plenty of food for him there. Though the little old lady who opens the door tells him she has nothing in the house or garden, the young man is not deterred. "If you will not give me something to eat, will you give me a stone?" he asks. "I can make soup from a stone."
You probably know the rest of the story.
The young man picks up a round gray stone and talks the old lady into setting a pot of water on the fire to boil. He drops the stone into the pot. As it begins to bubble, he tells her the soup would cook faster with some onions, which she produces. Later, he convinces her that carrots would make it smell even better, so she tosses some in. Ditto for beef bones, which—in this re-telling—she steals from the dog. Then he talks her into adding a bit of pepper, a handful of salt and some butter and barley. And all the while, she shakes her head in wonder and says, "Soup from a stone. Fancy that."
The old woman sets the table with her best dishes and she and the young man sit down to eat. When their dinner is over, the young man takes the stone from the pot and places it in his pouch, telling her it hasn't cooked enough. The he says good-bye and sets off down the road, thinking of the fine supper he'll have tomorrow night.
When my Kentucky grandchildren visited during October a few years ago, we read "Stone Soup" together and agreed it would be fun to make some of our own. It wasn't hard to find a round gray stone. In fact, we found several. Into a pot of water they went, and I set it to boiling. Though I don't grow a vegetable garden, I had onions and carrots from the grocery store. I also had leftover roast beef. We added all those things, along with salt and pepper and butter—but no barley, which I didn't have–to the pot.
The house soon smelled wonderful. Wasn't this going to be a tasty supper, I thought, not to mention a delightful memory for all three of us!
After giving the flavors plenty of time to meld, I ladled soup into bowls and we sat down at the table. "Yummm," I said, spooning some soup into my mouth. It was actually pretty good, though it probably could have used some barley. Both kids sat with their hands in their laps, staring glumly at their bowls. Five-year-old June finally tasted a sip and said she didn't like it. Seven-year-old Eli, the worrier, pointed out that we hadn't washed the rocks before putting them in the pot so he didn't think the soup was safe to eat. They both wanted peanut butter sandwiches instead.
But at least we made a memory. And I had plenty of stone soup to enjoy, all by myself, for the rest of the week.
(October 22, 2022)