---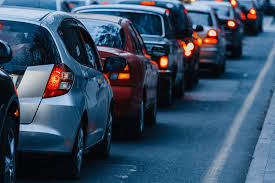 Nothing stays the same. Not even our sweet little town.
Shortly after moving from Nashville to Cookeville in the summer of 1986, I wrote a guest editorial for The Tennessean about how wonderfully different life was here in this town of about 20,000 people. Nashville had already passed half a million. With all sincerity, I compared my new hometown to Mayberry.
We had enough places to shop but not too many. "The Mall," anchored by J.C. Penney and Harvey's. A Sears storefront, located in the strip mall next to the library, where you could pick up items ordered from the catalog.  Roberson's and McAdoo's and Bob's Shop for Men and several boutiques that sold women's and children's clothes. We had a no-grocery Walmart, back in the days before supercenters. We had the "old" K-Mart directly across South Jefferson Avenue from the Bank of Putnam County. And if my memory serves me correctly, I believe we had a couple–but not a couple of dozen–Dollar General stores.
Because Cookeville didn't yet have liquor-by-the-drink, there weren't many "fancy" restaurant choices. But we had Pizza Hut, where those with a powerful thirst could order a pitcher of beer. We had Bobby Q's. And though we had what seemed like plenty of fast-food places, when Krystal announced they were going to locate here, many Cookevillians couldn't contain their excitement.
Even back in those days, Cookeville was too big for everybody to know everybody. But it was rare for me, even as a newcomer, to go somewhere that I didn't know somebody. I loved that. Another thing I loved was how easy it was to drive here. You could get to most anyplace in town in about ten minutes. Other drivers were courteous. They let you merge into traffic from a parking lot or a highway entrance ramp. They stopped at red lights. They used their turn signals.
Best of all, nobody honked.
By that I mean there was almost no angry, big city-style honking. We'd toot our horns to wave at someone we knew or even someone we didn't know. We'd beep in a friendly way to let bicyclists and joggers know we were near. We'd honk long and loud to alert other drivers to danger. But Cookeville wasn't the kind of town where people blew their horns in anger or frustration or just because they enjoyed being jerks.
I fear that isn't the case anymore. And I fear that if I don't guard my own actions closely, I just might become a honker myself.
Traffic is horrendous these days. New neighborhoods and apartment complexes and businesses are springing up everywhere. We have so many grocery stores, even without dear Spring Street Market, that it boggles the mind. We've outgrown our main thoroughfares and many of our secondary roads. I pass three rock quarries on my way to town, which means sharing the road with countless slow-moving dump trucks from sun-up to sundown.
Vehicles are sometimes so backed up at exit ramps off I-40 that traffic on the intestate slows to a crawl or comes to a complete stop. During busy times of day, it's possible to sit through traffic light changes at major intersections two or even three times. People are frazzled. No wonder they honk. When drivers in front of me impede my progress because they're paying attention to something (usually a cell phone) other than driving, it's hard not to lean on the horn.
Here's how I keep from it, most of the time anyway. I loosen my white-knuckle grip on the steering wheel. I turn the happy music on the radio up just a notch. Then I pretend I'm in Mayberry, where life moves a little slower. I pretend I know the drivers around me by name. I pretend I have all the time in the world.
And I remind myself that at least I don't have to drive in Nashville every day.
(July 30, 2022)