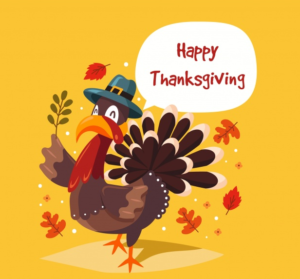 As we enter the fourth week of the eleventh month of perhaps the strangest and most stressful year many of us have ever lived through, it seems a little daunting to try to make a list of things to be grateful for.
This Thanksgiving, I'm following the advice of health experts alarmed at spiking Covid numbers. Stay home, they say. Don't gather in large groups. Isolate this holiday season so you can celebrate with loved ones next year. That's my plan. I came in contact with thousands of voters and dozens of election workers over the past six weeks, and though I was as careful as possible, there's a very real chance I may have been exposed to the coronavirus. I refuse to expose others.
That means I'll be home alone on Thanksgiving Day 2020. And, yeah, it makes me sad. I'm a social person. I hate like the dickens to miss any party, but especially a party that involves copious amounts of food and fun shared with family and friends.
On the bright side, I've never been a big fan of turkey and dressing. I don't like green beans. I could go the rest of my life without eating a piece of pumpkin pie and never miss it. Cooking isn't on the list of the top ten things I like to do. Neither is grocery shopping or washing pots and pans. My main course this Thanksgiving will likely be a slice of country ham fried crisp in my grandmother's cast iron skillet. I'll bake a sweet potato to go with it and slather it with butter. I'll have a salad made with lettuce grown in the big flower pot on my deck.  Dessert will be a sort-of-tart/sort-of-sweet relish made with fresh cranberries, orange marmalade and chopped pecans.
Yum.
On Thursday morning, I'll watch the void-of-spectators Macy's Thanksgiving Day parade on TV. When night falls at 4:30 in the afternoon, I'll kick off the Christmas season with "It's a Wonderful Life," a movie that never fails to inspire me to count my blessings. I've already started that list, which includes these things I'm grateful for:
Free and fair elections, messy though they are
No more political ads on TV
A house with windows that open to let fresh air fill the rooms
Enough hand sanitizer and toilet paper to last a long, long time
Sandhill cranes overhead, on their way to Hiwassee Refuge
"Air Pods," which let me talk on the phone without holding it in my hand
Watson the cat, who has almost eliminated my squirrel problems
Zoom and Facetime
A houseful of books I haven't yet read or that I want to read again
More people who seem to understand the importance of wearing masks
Zinnias still in bloom the week after Halloween
Pansies to take the place of those zinnias after the first hard freeze
Peaceful rural roads where I can ride my bicycle
Endless possibilities of things to watch on TV
Dogwood Park
Cane Creek Park
The probability of a safe and effective Covid vaccine coming soon
Readers like you who make this column a joy to write. Blessings upon all of you this Thanksgiving and always.
(November 21, 2020)