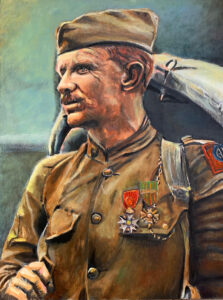 Quick. Can you name the Tennessee native known as "The Greatest Soldier of Them All"? Chances are, if you're reading this column, you probably can. The generation still attached to newspapers and Facebook likely knows I'm talking about Fentress County native Alvin C. York.
Born in 1887 in the Valley of the Three Forks of the Wolf River in Fentress County, York was the third of eleven children born to William and Mary York. The family led a hardscrabble existence. William farmed the rocky land surrounding the York's one-room log cabin and worked part-time as a blacksmith. Mary cared for the house and children and took in other people's laundry. The eight York sons learned to hunt, a necessity if the family wanted meat on the table, almost as soon as they learned to walk.
In 1911, William York died after being kicked in the head by a mule. Alvin became the man of the family, the pressures of which helped drive him to hard partying when he wasn't building roads and working in a sawmill.  During a barroom brawl in 1914, his best friend was killed. That's when Alvin got religion and gave up his wild life. "I've never since drunk whisky or touched cards or smoked or chewed or fought or cussed," he said.
The rest, as they say, is history
In June 1917, not long after the United States entered "The Great War," York received his draft notice. Because of his religious convictions, he petitioned to become a conscientious objector but was turned down. Off to France he went, across an ocean he described as "too big for me." Having been promoted to corporal during basic training after his marksmanship skills were discovered, York and sixteen other soldiers were sent on the morning of October 8, 1918 to capture a railroad near the Argonne Forest. They ended up behind enemy lines, where nine of the American soldiers were wounded or killed.
You no doubt know what happened next. York and the handful of his men that remained eventually killed 28 German soldiers and captured 132. York's heroics were called "the greatest thing accomplished by any soldier of all the armies of Europe." He was promoted to sergeant and awarded so many medals that he commented he needed two coats to hold them all.
A little more than a month later, on the eleventh hour of the eleventh day of the eleventh month, the armistice ending the war was signed. Alvin York soon returned to Tennessee, his life forever changed.
Though his story is just one little piece of the vast history of World War I, it's a story all Tennesseans should be proud of. But here's the thing. Does the generation behind me even know this story? How about the generation behind them? I fear that, with the emphasis in too many of our schools on "teaching to the TCAP," there's no time for Alvin York or any of our other Tennessee heroes. That's ironic because York, who had only nine months of "formal" schooling in his entire life (in a one-room schoolhouse with only a Bible and a spelling book for instruction), bemoaned his lack of education. "When I went out into that big world I realized how uneducated I was and what a terrible handicap that is," he said. He devoted much of his life after the war to improving education for the children of Fentress County.
As we observed Veterans Day yesterday—the name was changed from "Armistice Day" in 1954 to honor all U.S. war veterans, not just those who had served in World War I—I couldn't help but think of Sergeant York. And I couldn't help but hope that Tennessee history will again become an important part of our public school curriculum.
I'm certain it would make "The Greatest Soldier of Them All" proud.
(November 12, 2022)