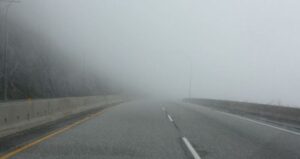 The fog was so thick that even Rudolph couldn't have guided me through it.
Heading to Asheville last week to spend an early Christmas with my kids and grandkids, it was obvious I needed to choose an alternative to Interstate-40. I hate the climb up the mountain from Cookeville to Monterey even on a good weather day. Even worse is the segment of interstate that crosses from Tennessee into North Carolina. Too many curves. Too many hills. Too many eighteen-wheelers.
Thankfully, I wasn't in a hurry. I'd simply take the backroads, where I wouldn't have to drive at breakneck speeds, until the fog lifted and the rain let up. If it meant travelling the entire two hundred miles on Highway 70, I was OK with that. I took 70N to the Monterey City limits. The fog was as dense as ever and the rain was falling harder, so I stayed the course went on to Crossville, where 70N joins with "regular" Highway 70.
In Crab Orchard, I stopped for a break at a filling station with an old-school exterior restroom, its floor slick with muddy water and its toilet paper and paper towel dispensers both empty. Then I was eastbound again, following the narrow, curving road past Ozone Falls until it intersects with Highway 27 south of Rockwood. Aware that following Highway 70 through Knoxville was possible but exceedingly complicated, I steeled my nerves and merged onto the interstate at Harriman.
Suffice it to say there were several wrecks and many slowdowns on I-40, so when I saw my chance to exit at Dandridge, where I could pick up Highway 25-S/70-E, I took it. Lights from a lone gas station shone through the fog and, needing another break, I stopped. Thankfully, my tank was still half full because gas was 60 cents a gallon higher than I'd paid in Cookeville.
I visited the restroom—inside this time, thank goodness–and then began shopping for a snack because that's only fair if you use the facilities, right? In such cases I usually choose a fistful of Tootsie Roll Pops, but I perused the shelves several times and couldn't find a single one. In broken English, the man behind the counter—who until that moment hadn't acknowledged my presence—asked if I needed help.
"Got any Tootsie Roll Pops?" I asked.
He shook his head as though he'd never heard of such a thing. "You know…a sucker on a stick with chocolate in the middle?" I said, a little louder this time in hopes it would help him understand. He pointed to a spot where a variety of candy in cellophane bags hung from long metal hooks. There were Gummi Worms. Starlight Mints. Bit O Honey. But no Tootsie Roll Pops. I reluctantly chose a package of Gurley's Cinnamon Fireballs, certain they would be a disappointing imitation of real Atomic Fireballs, but I'd run out of time to shop.
Then on I drove, through Dandridge to Newport and beyond, travelling alongside and several times crossing the French Broad River, barely visible through the fog. At last, I entered North Carolina and vowed that–someday when the weather was better–I'd spend some time in lovely little Hot Springs. Though the mountains made it hard to find a radio station that didn't turn to static after a song or two, I finally found one with a strong signal that played genuine classic country, just like WLIV-104.7 out of Livingston used to do. Johnny Cash. Willie Nelson. The late, great Loretta Lynn. I popped a piece of candy into my mouth to discover, without surprise, that it was indeed a "Tongue Torcher" and not a real Atomic Fireball.
I pulled into my son's driveway six hours after I'd pulled out of my own driveway, bone tired but reminding myself that, when you're a newspaper columnist, the journey really is the destination.
(December 17, 2022)