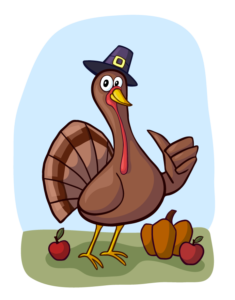 The countdown has begun. This coming Friday, I'll take the autumn leaves wreath down from the front door. I'll toss the almost-rotten gourds and pumpkins scattered across my hearth onto the compost heap. I'll pluck the plastic bobble-head turkey off the tray on my coffee table and pack him away.
Then I'll usher in the Christmas season.
Yeah, I'm one of those people. The ones who think July is too early for stores to replace racks of swimsuits with racks of winter coats. Who think October 1 is plenty early to start getting excited about Halloween. Who think November should be reserved for Veterans Day and Thanksgiving.
I refuse to haul crates of Christmas decorations up from the basement until December 1. Ditto for shoe boxes filled with Christmas CDs and DVDs, with a single exception. The one movie I'll watch before December is "November Christmas," an aptly titled 2010 Hallmark presentation starring Sam Elliot. He's not the only reason I watch it early, though he's reason enough. "November Christmas" is a poignant tale of a community that comes together to help the parents of an extremely ill eight-year-old girl celebrate the holidays early, in case…well, you can figure that part out. Be forewarned: it's a real tearjerker.
For me, Christmas just isn't as special if it starts too early and drags on too long. Three and a half weeks is enough time to listen to "Silver Bells" and "Jingle Bells" and all the rest. Sometimes more than enough. Rudolph, Frosty, the Grinch and even Charlie Brown and his pitiful little tree lose their charm if I watch them too soon and too often. Christmas lights become just another part of the landscape when they're lit for months on end.
Come December, I take absolute delight in my Christmas decorations. Fat, multicolored lights wrapped around my porch rails. The grapevine wreath with the big red bow that hangs by my back door. Fiestaware dinner plates, adorned with holly leaves and berries. The collection of antique Santa face mugs that sits on the top shelf of my barrister bookcase. A framed Christmas card picturing Mary and Joseph and the baby Jesus inside the stable. The simple pine Christmas tree with tiny white lights that belonged to my parents.
While I put these things lovingly in place on the first day of December, I listen to my favorite Christmas music.  Elvis crooning "Blue Christmas." "O Holy Night" by Josh Groban.  John Denver singing "Christmas for Cowboys." Alabama's "Tender Tennessee Christmas." "Silent Night" by Reba McIntyre. It gets me in the mood and makes me grateful for this most special time of year. So grateful that I'm unwilling to dilute it.
More than two thousand years ago, the author of Ecclesiastes wrote "To everything there is a season." May it ever be so, especially with Christmas.
(November 26, 2017)