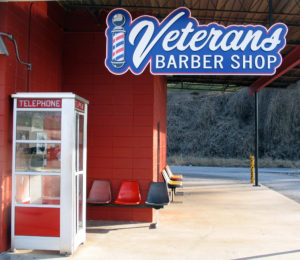 Some people have a lot of nerve.
That's what Jonathan A.D. Williams, owner of Veterans Barber Shop here in Cookeville, recently discovered. On the sidewalk just outside his shop, located in the building that until three years ago housed the Greyhound Bus Station, sits a "Superman-style" phone booth. It's the only one like it for miles around. "I don't know of another in Putnam County," Williams told me. "It may be the only old-timey phone booth in the entire Upper Cumberland."
The booth has occupied that spot since the early 1980s and is cemented into the sidewalk. It's a phone booth exactly like those of us of a certain age remember, with glass walls and a rusted metal shelf and a heavy-duty black telephone with slots on top to drop in coins. The overhead light no longer comes on when the folding door closes and there's no beat-up phone book dangling from a chain, but the booth is charming and nostalgic nonetheless. The phone itself is the property of Frontier Communications. The booth belongs to Albert Ramsey, who owns the building.
"I was out of town over the New Year holiday and got a call from Zach, one of my barbers," Williams said. "He told me a man was here from AT&T to take the phone booth. He claimed to be a subcontractor who'd been informed the building was being torn down. He'd come to haul off the booth before the demolition started."
Nothing about that story rang true. According to witnesses, the man was "rough looking." He wasn't wearing a company uniform or driving a company truck. The phone didn't belong to AT&T.  The biggest red flag? Williams has a long-term rental contract with Albert Ramsey and was certain the building wasn't scheduled for destruction. So he made some phone calls to confirm his suspicions.
Turns out the guy wasn't a subcontractor. He was a con artist.
Ramsey filed a police report. And he arranged for a pick-up truck to be parked where it blocked the phone booth. When Williams returned to Cookeville, he confronted the would-be thief by phone. "I told him we were on to him, that it sounded like he was out to steal our phone booth. It didn't take him long to confess. He said he was low on money and thought he might be able to make some quick cash by selling it."
That's where the story ends. No charges were brought, no arrest was made. The phone booth still sits its rightful place next to the shop on Veterans Drive, as essential a part of the scenery as the striped barber pole and the row of plastic bucket chairs where folks once sat to wait for the bus. "This phone booth is a Cookeville landmark," Williams said. "Folks come here all the time to get their pictures made standing in it. What a crying shame it would have been if the theft had been a success."
(January 22, 2017)