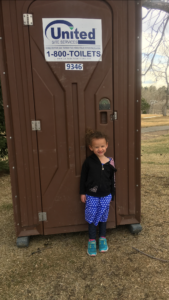 As a child, I had several older relatives who used the term "johnny," as in "I need to use the johnny before we get in the car." Its meaning, of course, was toilet. I thought it was a funny word, though I never used it much myself.
Flash forward several decades, to just last month. I was in Denver visiting two of my grandchildren. Though eight-month-old Oliver prefers simple board books that can be chewed on as well as read, Josephine—who is four—likes a real story. I was tickled to find a copy of the 1993 picture book "When I Was Young in the Mountains" by Cynthia Rylant on their playroom bookshelf. It's a book I'd read to my own children and it was fun to happen upon it all these years later. The story is set in the olden days and tells about a little girl and her brother who were raised by their grandparents in the Appalachian Mountains. Following a supper of corn bread, pinto beans and fried okra, the narrator tells us this: "In the middle of the night, Grandmother walked with me to the johnny-house and held my hand in the dark."
Not surprisingly, Josephine asked the very same question her mother had asked the first time she heard the story. "What's a johnny-house?"
I explained that it was a potty set inside a little wooden shed. A silhouette of the crescent moon was often carved into the door to let air and light in. I told Josephine that a johnny-house was sometimes called an outhouse and that it smelled bad because it didn't flush. That's why it was built way back in the yard. I said I'd noticed that the playground at a school in her neighborhood had a porta-potty, which is pretty much the same thing as a johnny-house.
"Can we go there and see it?" she asked.
Thus the idea for our afternoon adventure was hatched. After rest time, we put on running shoes and sunglasses and sweatshirts. We loaded snacks and water into a backpack. Then we set off for the playground.
It's a good one, filled with all kinds of fun things to do. At first, Josephine was too distracted by all the slides and swings to be interested in an outdoor toilet. But when she was finally ready for a rest, we ventured over to the porta-potty near the basketball court. It was made of plastic, not wood, and had no crescent moon carved into the door. Inside, it was and clean and well-stocked with toilet paper and hand sanitizer. Happily, there was no bad odor at all.
Somewhat to my disappointment, Josephine wasn't interested in trying it out. "I don't need to go," she said. "I promise." But at least she can now say that her Grandmother once walked with her to a johnny-house.
(April 7, 2019)