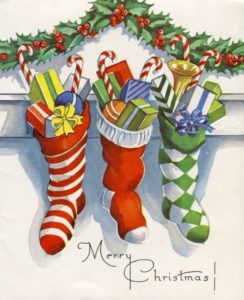 Crosby, Stills & Nash said it best in their 1969 megahit "Suite: Judy Blue Eyes": Don't let the past remind us of what we are not now. Good advice, but hard to follow. Especially on Christmas Eve.
In the blink of an eye, more than two decades have passed since my children lay awake listening for Santa's sleigh to touch down on the tin roof of our old farmhouse. "I heard the reindeer outside my window," son James would say on Christmas morning, "but I didn't get up to peek out."
Tonight my children's children–all under the age of six–will do likewise, though none of them have a tin roof. And my own Christmas Eve will be quiet and decidedly un-busy. No stockings to stuff full of fresh, new crayons and red and green M&Ms and fuzzy mittens. No toys to arrange under the lopsided cedar tree. No milk and cookies to set out. No insincere threats that children who come downstairs before the sun comes up might just find that jolly old St. Nick has skipped their house altogether.
It's easy to grow melancholy about such things. I confess there have been more than a few Christmas Eves when I've cried my eyes out over how quickly time passes. On those nights, I remember lying in my own childhood bed straining to hear Santa Claus coming down the chimney. Even in those houses that didn't have a fireplace. I remember the Christmas when I was three years old and Santa brought me a rocking horse and a cowgirl hat. I remember when he delivered my first big-girl bike, which I was too sick with a stomach bug to ride. I remember the Lil' Monster slalom water ski that I declared the best present ever, even though it would be months before the lake was warm enough to try it out.
It's not the presents, of course, that make such memories special. It's the people who shared those Christmases with me. Great-grandparents, grandparents, aunts and uncles and cousins, most of them dead and gone now. Above all, it's my mother and daddy, neither of whom lived long enough to meet any of their great-grandchildren.
Those kinds of thoughts will overwhelm you if you let them.
So I've established new Christmas Eve traditions to help chase the sadness away. I spend the afternoon re-reading my favorite holiday story—"Home for Christmas" by Howard Bahr. I attend 5:00 worship at my church, First United Methodist, and am awestruck all over again when the whole congregation lights candles and sings "Silent Night" to end the service. Back at home, I settle onto the couch with a big bowl of popcorn and watch "It's a Wonderful Life" from start to finish.
And I accept that it's impossible to keep the past from reminding me of what I am not now.
(December 24, 2017)