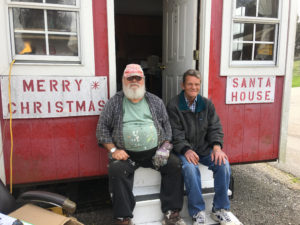 News Flash: I know where Santa spends the off-season. Two days a week, he's at the solid waste convenience center on Dacco Quarry Road, manning the paint recycling site. I know this because I've met him.
A couple of months back, while at the convenience center to dump my trash, I noticed a little red building near the entrance gate. MERRY CHIRSTMAS the sign under one window said. Beneath the other was a sign that read SANTA HOUSE. Hot on the trail of a column, I asked attendant James Smith about it. He told me the building once belonged to Putnam County Parks and Recreation. These days, it's used by the county maintenance department when a temporary shelter is needed. They'd placed it at Dacco while a new office was under construction.
"The old office was here for more than 30 years," James told me. "It was built directly on the ground instead of on a slab and had deteriorated pretty bad." While the county's been demolishing and replacing it, the Santa house has served as Dacco headquarters. "It's worked out good," James said. "We're wired so that we can use our telephone and run a radio and a little heater."
The same plan was used last year when the Gentry and Bloomington Springs convenience sites replaced their old offices. The only difference? Jolly old Saint Nicholas didn't hang out at those locations.
Santa's other name is Gene Underwood. The day I met him, Gene was sporting a paint-covered green t-shirt, a red ball cap, and his trademark white beard. "I grow this beard off and on," he told me. "My wife's not a big fan, but I love it and so does my grandson. I've had this particular beard for about 18 months."
James was quick to point out that, in addition to the beard, Gene also has a perfect Santa belly. Gene ho-ho-hoed in agreement. "I've played Santa at the Cookeville Nazarene Church for the past two Christmases," he said. "Folks there decided I'm so right for the part that they bought me a new red suit."
A firm date to move into the new office at Dacco hasn't yet been set, but it will likely be in late April or early May. "It's going to be real nice," James told me, "but we'll miss the Santa House."
"It's been a real conversation starter," Gene added. "Almost everybody who comes to dump their garbage has something to say about the house, especially if I'm sitting on the front porch."
The Dacco convenience center, located just off Interstate 40 at exit 290, is open from 6:30 a.m. until 6:30 p.m. every day but Thursday and Sunday. Paint recycling, with Santa in charge, is open Tuesdays and Saturdays from 10:30 until 3:30. If you want to experience Christmas-in-springtime for yourself, don't delay. It won't be long before the Santa House goes back to the North Pole.
(April 15, 2018)