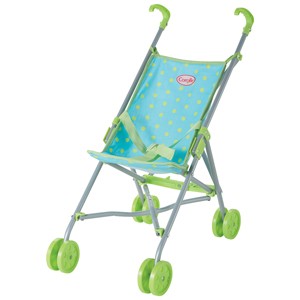 As I lifted the umbrella stroller and overloaded diaper bag from the cargo area of daughter Leigh's minivan last week, I tried to remember how long it had been since I'd taken an airplane trip with a baby. It didn't take long to come up with the answer.
This was my very first time.
Leigh had just driven three hours from her home in Kentucky, with eight-month-old June buckled securely in the backseat, to meet me at the Nashville airport. From there, we were headed to Denver to visit daughter Meg, son-in-law Andrew and six-week-old Josephine. Fun times were definitely in store.
But first came the 1200-mile flight.
June, as a "lap child" under the age of two, didn't need a ticket. She'd be sharing a seat with either Leigh or me and would, we hoped, nap for most of our journey. But first we had to make it to the terminal, through check-in and past security.
The first hurdle was figuring out how to open the stroller. Leigh came to the rescue when it was obvious I was baffled. We popped June in and stuffed most of the contents of the diaper bag into the backpack that was to serve as my under-seat carry-on. Leigh's slung a handy-dandy battery-powered breast pump, her under-seat carry-on, over her shoulder as I wrangled our big rolling suitcases onto the pavement.
The shuttle was pulling away from the bus stop just as we got the cars locked.
But we caught the next one and made it to the terminal with plenty of time to spare. As we dropped off our luggage, I began to realize that travelling with a baby has its perks. Especially a super cute baby dressed in a pink sleeper with white polka dots. The baggage clerk was so busy telling June what pretty blue eyes she has that she completely forgot to ask for my photo ID.
Security was a breeze, too. Neither Leigh nor June had to pass through the X-ray machine and TSA agents gave only perfunctory notice to the bottles of milk and containers of yogurt in her cold-pack.
We scored seats near the front of the plane, sharing our row with a young woman who assured us that she loved babies and wouldn't be at all bothered if June was fussy. We were prepared for her to cry as the plane ascended and made her ears pop, but she didn't. Ditto for the descent three hours later. In fact, June hardly fussed at all during the entire flight, though she slept very little. Perhaps because almost everybody who passed on the way to the restroom stopped to tell her what pretty blue eyes she has.
The trip home wasn't quite so smooth. The lines in Denver were longer and the TSA agents not nearly as friendly or relaxed as the ones in Nashville.  Traversing a giant airport via escalators and high-speed trains with a baby in tow is no walk in the park. The worst part of our return trip was the two-hour delay in departure caused by "maintenance issues" on the plane we were supposed to have boarded.  But through it all, June behaved like a trouper. And I became impressively adept at heaving a heavy pack onto my back, pushing one suitcase while pulling another and catching a falling pacifier before it hit the floor. Most of the time, anyway.
But I never did figure out how to fold and unfold that darn umbrella stroller.
(May 3, 2015)